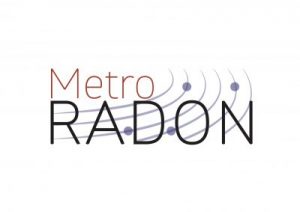 Why do we need this project?
On 6th of February 2018, all European member states have had to incorporate into their national legislation the new EURATOM Directive 2013/59. This is a milestone to protect people against the dangers coming from ionising radiation and, in particular, those from radon exposure. Therefore, there are new needs in terms of calibration of radon measuring devices and protocols dealing with radon measurements. Also, as the Directive states the reference level for radon concentration must not exceed 300 Bq.m-3 so the challenge of having traceable and good calibration sources becomes obvious.
Structure and work packages
The project is funded by EMPIR (European Metrology Program for Innovation and Research) and coordinated by BEV/PTP. metroRADON has five main objectives:
To establish calibration procedures for measuring instruments capable of detecting low radon concentrations
To look into how thoron concentrations may affect radon measurements
To revise the existing radon measurement protocols in Europe and enhance such practices all over the continent
To provide support for the implementation of the new Directive in terms of the definition of RPA (Radon Priority Areas)
To revise the existing radon calibration facilities in Europe
Apart from the above, there are other objectives in terms of dissemination of results and enhanced communication that make metroRADON a very ambitious project that will be running for the next 3 years.
Partners
There are 17 partners involved in the project. Eight of them come from national metrological institutes and the rest are from research centers and universities. The following countries are represented: Austria, Bulgaria, Czech Republic, Finland, France, Germany, Hungary, Romania, Serbia, Spain and Switzerland. The European Commission is represented by the JRC (Joint Research Centre). In addition to that, 25 companies compose the Industry Interest Group and among them, Radonova laboratories AB from Sweden are an active participant.
Timeline
The project will extend from June 2017 until June 2020. Every six months a newsletter will be issued showing progress and upcoming activities. All the information is available on the website www.metroradon.eu